Pfizer Genotropin Goquick Pen 36iu (12mg)
One pre-filled GoQuick pen (1ml).
LONG EXPIRY OF: 06/2019

WHAT IS GENOTROPIN?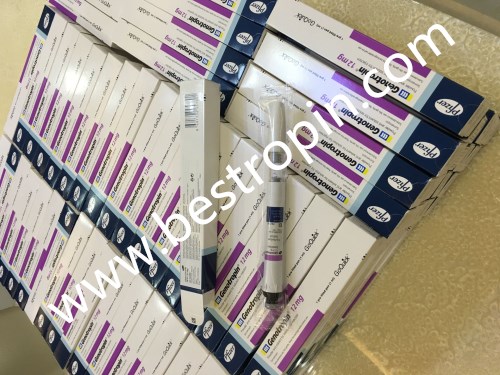 GENOTROPIN is a man-made copy of natural growth hormone that has been used to treat more than 95,000 people all over the world. With GENOTROPIN, you and the doctor can choose from several injection devices to best meet your child's individual needs. Multi-dose pens are easy to learn how to use Digital display so you can easily see your recommended dose The medicine mixes inside the pen—no vials to mix The dose can be dialed back if needed without wasting any medicine An optional needle guard hides the needle and keeps the pen stable while injecting Pen caps and covers can be customized with colors and designs Refrigerate between 36℉ to 46℉ Portable and easy to use for families on the go Disposable and pre-filled No dose setting—each MiniQuick contains one, pre-measured dose No refrigeration needed† Packaged in a 7-day supply Preservative-free †Before reconstitution, GENOTROPIN MiniQuick can be stored without refrigeration at room temperature (77°F or less) for up to 3 months. The GENOTROPIN Mixer® is a reusable device for use with 5-mg or 12-mg GENOTROPIN cartridges and standard syringes. Automatically mixes medicine before injection Refrigerate between 36℉ to 46℉ A doctor or nurse will help you with the first injection. He or she will also train you on how to inject GENOTROPIN.

Genotropin's medical term is Somatropin and is manufactured using recombinant DNA technology. The synthesis process involves bacteria, Escherichia Coli K12 which contains the plasma pBR322 and carries the gene for a prohormone consisting 191 amino acids. These acids form the human growth hormone and are preceded by a peptide that contains 23 signals. This signal peptide is isolated by a specific peptidase signal found in the plasma membrane. The human growth hormone is then harvested carefully through the bacterium's outer wall. A purification process follows that guarantees purity of the final product. This final product is genetically engineered to identify with amino acids found in the human pituitary growth hormone. The drug can be administered in both Pen and Syringe:

1. Genotropin "Go-Quick" – Somatropin for injection, Lyophilized powder 5.3mg
Prefilled Pen
2. Genotropin "Mini-Quick" – Somatropin for injection, Lyophilized powder 0.2mg, 0.4mg, 0.6mg
Syringe.

Genotropin Cartridge and Pen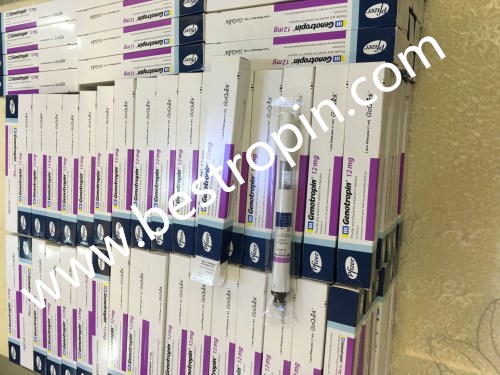 While administering, Genotropin, it's important to use the correct cartridge as well as the right pen. They are color coded to help the user match the cartridge to the right pen. It's advised to use only:
· Genotropin Pen 5 with Genotropin 5mg cartridge. Both are green
· Genotropin Pen 12 with Genotropin 12 mg cartridges. Both are purple
Specifications for Genotropin –When 5.3mg powder is injected with solvent
A two chamber cartridge, is the standard Pfizer injection device Genotropin Pen. The cartridge contains a measure of 5.3mg solution of sodium dihydrogen phosphate anhydrous, somatropin glycine, disodium phosphate anhydrous, m-cresol, mannitol and water for injection.
When 12mg powder is injected with solvent
This cartridge contains 12mg Somatropin, sodium dihydrogen phosphate anhydrous, glycine, disodium phosphate anhydrous, m-cresol, mannitol and water for injection.

Usage:
Genotropin is a powerful metabolic hormone that's crucial for the development of lipids, proteins and carbohydrates. In children with stunted growth, Genotropin stimulates growth and accelerates growth rate. In adults, Genotropin maintains the regular body compositon through increased nitrogen retention and enhanced skeletal and muscle growth, and by optimizing body fat.